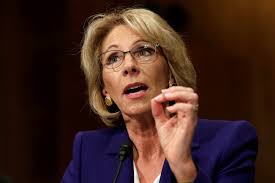 DeVos Will Roll Back 2 Obama Regulations, a Blow to Consumer Advocates – The Chronicle of Higher Education.
The U.S. Department of Education is beginning the process of rolling back two Obama-era regulations aimed at holding for-profit colleges accountable and helping students who may have been misled or defrauded by them: the borrower-defense-to-repayment regulation, which was scheduled to go into effect on July 1, and the gainful-employment regulation, which was already in effect.
The gainful-employment regulation was meant to hold career-preparation programs accountable for the outcomes of their graduates. Specifically, if the estimated loan payments of a program's graduates exceed a certain percentage of their income over a period of years, then the program would risk losing federal student aid.
The industry is finally feeling some relief
Link to Chronicle article:  http://www.chronicle.com/article/DeVos-Will-Roll-Back-2-Obama/240337?cid=wsinglestory_hp_1