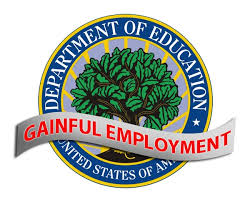 Education Secretary Betsy DeVos is rescinding an Obama-era rule that was created to protect students from abusive for-profit colleges.  She ruled that all colleges should be held to the same rules.  Clearly makes sense to us, but other dont agree…
The rule, known as Gainful Employment, required for-profit colleges and career certificate programs to post debt-to-earnings ratios, proving that their students could find good-paying jobs upon graduating. If the average ratio did not meet government standards, the school's federal funding would be revoked.
The Department of Education outlined a number of reasons the regulation was flawed in a notice posted Friday. It said the rule failed to account for factors other than program quality that could affect a graduate's earnings.
DeVos has also criticized the rule for not requiring all nonprofit colleges to also publish the data. In May, the department released new student loan data at the program level from nonprofit colleges, as well as certificate-granting programs.
Link to CNN article: https://www.msn.com/en-us/news/us/betsy-devos-scraps-obama-era-rule-on-for-profit-colleges/ar-AADzKvw?ocid=spartandhp