GrayReports' sample of nearly 32 million inquiries suggests that there is a rapid decline in inquiries for on-line programs, but relatively stable inquiry volume for on-ground programs.  We are also seeing a shift to higher-converting inquiries.  Recently, PPI volumes have dropped sharply, while internally-generated inquiries have risen.  As inquiries for on-ground programs and internally-generated inquiries gain share, conversion rates are rising.   So, while overall inquiry volume is down, converted inquiries are on the rise.
Inquiries for on-line programs continue to lose share.
So far in 2014, inquiries for on-line programs have dropped 23% YoY.
In July, they were down over 24.5% YoY.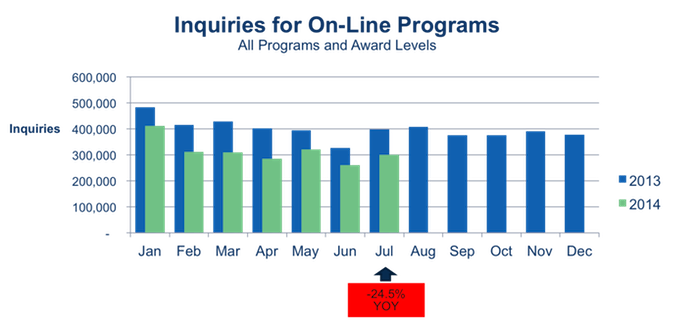 Inquiries for on-ground programs remain a bright spot.
The first seven months of 2014 have produced a 7.6% year-over-year increase in inquiries.
The second quarter of 2014 outperformed Q2 2013 by 17.7%.
July is the first month in the past six that did not outperform 2013.
July recorded a very modest 1% decline in 2014.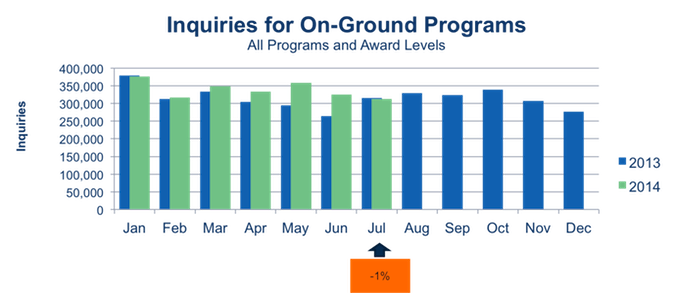 Internal inquiries are gaining share.
From January through March internal inquiries were stable versus last year.
April, May, and June all reported year-over-year increases of greater than 20%.
In July, internal inquiry share jumped 81% year-over-year to almost 30% of our sample.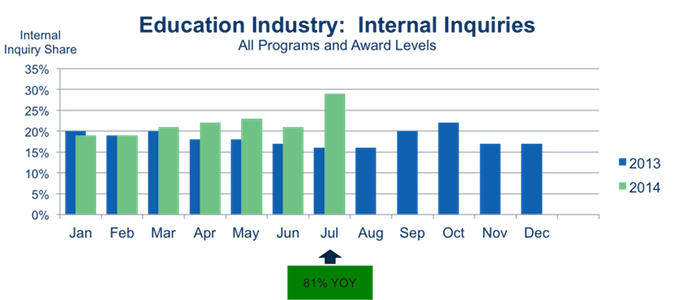 Inquiry-to-application conversion rates have strengthened in recent months.
The first four months of 2014 are mature and have outperformed 2013.
May 2014 is nearly mature and has already outperformed 2013 by 12.4%.
July is starting strong and if the trend from the rest of the year holds it should outperform 2013.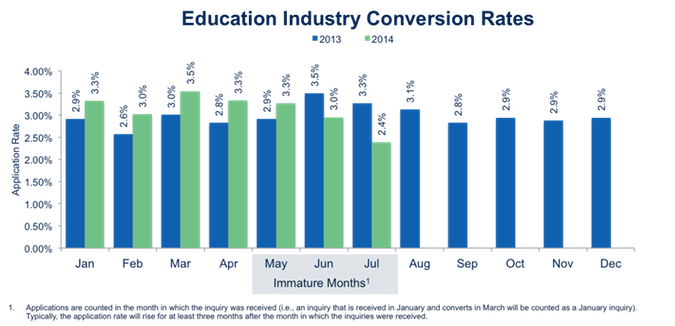 Conversion volumes are improving.
April had the lowest year-over-year growth thus far of 5.6%.
May still has the opportunity to improve but is already up 8.2% over last year.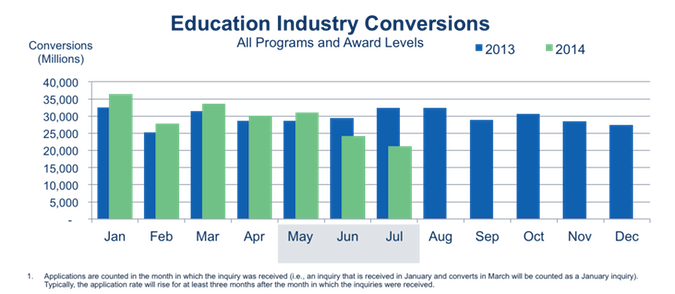 August's numbers will be completed in a few days and it will be interesting to see if the trends that have been developing over the past few months continue.  For an early look at August's numbers click here to sign up for September's GrayReports webinar.  If you have any questions about the data presented in this post please feel free to contact bob.atkins@grayassociates.com