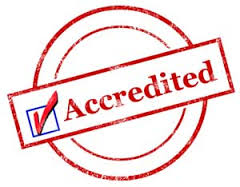 It often appears as if the country's six regional accrediting agencies are the federal overseers of all things higher education. It's time to put an end to their expansive role; doing so would very likely set off a great chain of positive reform. This is especially important now, as Congress is getting ready to update and reauthorize the Higher Education Act, which governs accreditation, in 2014.
The six agencies are the Middle States Association of Colleges and Schools (MSACS), the New England Association of Schools and Colleges (NEASC), the Western Association of Schools and Colleges (WASC), the Southern Association of Colleges and Schools (SACS), the North Central States Association of Colleges and Schools (NCA), and the Northwest Commission on Colleges and Universities (NWCCU).
They provide a seal of approval—accreditation—that indicates schools are meeting minimal industry standards. Primarily, they ascertain that the colleges and universities are financially sound and function as educational institutions and not merely as  "diploma mills."
The agencies' main source of power is their ability—granted by the original Higher Education Act in 1965—to determine whether schools are eligible for federal funding, particularly the student financial aid that is the life's blood for private institutions. That role has permitted the agencies to make the transition from essentially trade organizations intent on cooperatively improving industry practices—as they were originally conceived—to quasi-governmental regulatory bodies with the authority to impose huge costs, policy shifts, and penalties.
Allowing the regional agencies to continue as they are will likely continue higher education's slide into mediocrity and dogmatic conformity. They currently impose burdensome costs and regulations, stifle innovation, discourage competition and, most egregiously, allow substandard schools to continue operations while sucking up massive amounts of federal aid.
Full article: http://www.popecenter.org/commentaries/article.html?id=2934#.U44pUPldWa8