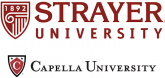 Strayer Education Inc. and Capella Education Co. announced Monday they are merging, in a $2 billion deal that will make the combined company one of the largest for-profit college operators in the country.
Shareholders in Herndon, Va.-based Strayer will own 52 percent of the combined company's stock, while Capella investors will hold the rest. Both boards have voted unanimously for the deal, which the companies anticipate will close in the third quarter of 2018. They will need state and federal approvals, including a thumbs up from the Department of Education.
The agreement arrives as for-profit schools continue to struggle with volatile enrollment and regulatory uncertainty. While the Trump administration has relaxed many rules targeting the sector, Democratic state authorities continue to go after for-profit colleges for abusive sales and marketing tactics.
Neither Strayer nor Capella has endured the legal headaches of some of their competitors, yet tepid growth in the number of people seeking degrees remains a hurdle — but one that investment analysts say the combined companies may be able to overcome.
Link to article: https://www.washingtonpost.com/news/grade-point/wp/2017/10/30/for-profit-college-operators-capella-and-strayer-join-forces-in-a-2-billion-merger/?utm_term=.2e826d6c5d1a 
Analysis of the proposed merger by Trace Urdan:
In the all-stock transaction as described, CPLA investors will receive 0.875 STRA shares and own 48% of the combined company post-merger. On a combined basis the new company will offer 135 degrees and certificate programs to more than 80,000 students. Its revenue will approach $900 million annually, its EBITDA will approach $130 million and its distributable free cash flow will be approximately $80 million. Its implied equity value will be roughly $1.9 billion.
The new entity will combine back office operations and share best practices, but each academic institution will be separately and independently maintained and operated. Pending approval by the U.S. Department of Education, each of its accreditors (HLC and Middle States) and various state regulatory entities, it expects to close the transaction within the next eight months. The new parent company will change its name to Strategic Education and retain the STRA ticker.
Link to full analysis:
https://www.linkedin.com/pulse/chocolate-bars-vs-candy-corn-sorting-strayer-capellas-trace-urdan/?trackingId=dRoiTGJ4KKEI1VdwCq%2FWaQ%3D%3D