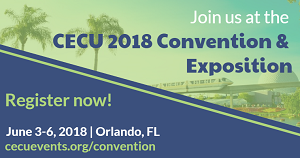 Join us at the 2018 CECU Convention on June 3-5 in Orlando, Florida this year! The CECU Convention is the largest gathering of sector leaders nationwide and you won't want to miss out.
As many of you know, never before has our sector seen so much opportunity for progress than what we see ahead of us today. With recommendations submitted for reauthorization of the Higher Education Act (HEA), we look forward to a future with accountability measures that apply equally to all sectors of higher education and a common set of outcomes to support our students.
So join CECU in June to hear updates from sector thought leaders and the most up to content presented by industry experts.
There is something for everyone at the CECU Convention – Choose your itinerary from over 40 education sessions or come early for any of our pre-meeting workshops.
Last year, 65% of attendees came from schools. Many were C-suite executives and decision makers as well: 30% were CEOs/Owners, and 34% were part of the executive team.
So don't miss out, register today. From now until April 30th register using the Code: MarketDriven and receive 5% off your registration.
CECU Discount code Code: MarketDriven
CECU registration link: https://www.eiseverywhere.com/ereg/index.php?eventid=282108&token=46904875dd95d7f291400795b919747da5
Hope to see you there!