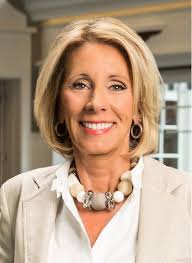 HP article:
Senator Elizabeth Warren (D-MA) was the first and only senator to really press DeVos on for-profit college accountability issues. She asked DeVos, who admitted to have almost no higher education management or college aid experience, if she supported protecting federal taxpayer dollars from waste, fraud, and abuse?  DeVos said yes. Warren said she was glad to know that, since Trump's higher education experience consisted of fraud so bad at his fake unaccredited university that he paid out $25 million to settle claims from students and New York's attorney general.
Warren pushed, asking DeVos exactly how she would stop fraud. DeVos: "The individuals with whom I work in the Department will ensure that federal monies are used properly and appropriately."
Warren pressed further, noting that there are already "a whole group of rules" written by the Obama Administration to protect college students. In particular, she asked DeVos whether she would commit to enforcing the gainful employment rule, which would penalize career college programs, whether at a for-profit, non-profit, or public college, that leave graduates with insurmountable debt. New data released by the Department confirms what for-profit colleges feared as they have lobbied fiercely against the rule: 98 percent of the programs flunking the test in its first year were for-profits.
Wash Post:
Some amount of deflection in responding to pointed questions is inevitable. In some cases, DeVos may not have figured out her position yet on various questions, some of which were overly-specific, and a bit unfair. I didn't find it unreasonable for her to decline to commit to specific current regulations under ESSA (Every Student Succeeds Act) that she might seek to modify or change.
The most evasive language, in my view, emerged in response to questions about school and college accountability. DeVos was reluctant to commit to strong federal efforts to ensure that all schools will be held accountable. Asked about financial risks posed by charter schools with relationships to Charter Management Organizations, many of which are for-profit, she dodged the issue, responding merely that she would work to "hold schools accountable for educating students."
And after ducking Sen. Tim Kaine's (D-Va.) question about equal accountability for all schools receiving federal funds four times in person, she's said nothing to clarify her position.
Link: https://www.washingtonpost.com/news/answer-sheet/wp/2017/02/01/the-good-evasive-and-very-bad-answers-betsy-devos-gave-to-questions-from-democrats-about-education/?utm_term=.071c53e754ee 
EDU Dive:
The growing potential for Secretary of Education nominee Betsy DeVos to support deregulation for for-profit colleges and rollback several guidelines for federal standards on postgraduate outcomes takes centerstage in a Huffington Post editorial this week.
Author David Halperin explains that the for-profit industry has reaped billions in public funded student loans while leaving students with little-to-no prospect for gainful employment. But inaccuracies in federal reporting on these outcomes has allowed DeVos and Republicans to challenge the policies outright.
DeVos declined to endorse guidance for gainful employment and accountability standards for federal funding to institutions of all types.
Link: http://www.educationdive.com/news/would-betsy-devos-scale-back-regulations-on-for-profit-colleges/435341/