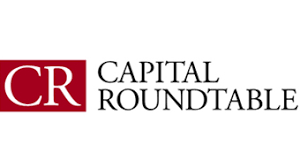 We are very pleased to be a partner of The Capital Roundtable for its full-day annual summer conference on "Private Equity Investing in Education-Focused Companies."
Coming up on Thursday, July 19, in New York City, the theme of this conference is:
How PE Firms Are Engineering A New Generation of Education Companies
I am able to offer you a special VIP rate — $500 off the standard rate.  Your price to register is only $995! To register at this special rate, please click here and use coupon code EDU or call Julie Berger at 212-832-7300, ext.0, or jberger@capitalroundtable.com.
You'll hear from more than 20 private equity investors and bankers, and education company managers discussing how they're partnering with schools, corporations, and other kinds of investors to build "next-gen" companies that can drive the remodeling of the U.S. education system and thereby deliver better outcomes for students and better returns for investors.  Click here to learn more about the program.
Here Are Three Key Reasons Why You Should Join
Connect with and discuss key trends in the education, learning, and talent sectors
Get current on key regulatory considerations, from higher education reauthorization to student data protection measures
Hear examples of business model creativity and innovation that are allowing the next generation of companies to thrive in our highly connected ecosystem
Chairing the conference is Shoshana Vernick, a co-founder of Sterling Partners' Education Opportunity Fund.
At this conference, you'll enjoy exceptional networking opportunities. The agenda includes ample time, with session breaks and a buffet lunch, to exchange ideas, swap business cards, and form new relationships. See the agenda here.
To register, please click here and use coupon code EDU or call Julie Berger, at 212-832-7300 ext. 0, or email her at jberger@capitalroundtable.com.    Please be sure to mention MarketDrivenEDU to receive this low VIP rate.  And note this rate is not available online.