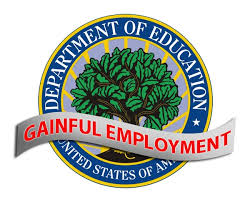 info Update Jeri Prochaska, CSPEN
Status of our Sector Webinar, we would like to share two new important pieces of information we received today from top-level Department of Education staff responsible for the interpretation and implementation of the GE regulations and metrics.
1.   TIMING OF RELEASE OF DRAFT GE DEBT-TO-EARNINGS DATA
CSPEN has received word that sometime in October, not November as previously forecast by CSPEN and the Department's own published timelines and Power Point slides, all schools with programs subject to the gainful employment regulations should expect to receive their Draft GE Debt-to-earnings (D/E) data.  While no specific dates were provided, the release could be as early as October 21st – following completion of the first two GE Reading Files and Submitting Challenges webinars, but are more likely to come sometime the week of October 24th. CSPEN also expects the 45 day challenge period to be announced separately either by the end of October or in early November as well.
We again remind you that it is vitally important for your institutions and those within your organization responsible for review of the Draft GE D/E data and possible submission of challenges to the data to strongly consider attending the workshops later this month.  For more information on these important webinars refer to (ANN-16-14) Subject:  Live Internet Webinars – Gainful Employment: Reading Your Draft GE Debt-to-Earnings (D/E) Rates Files and Submitting Challenges.  http://ifap.ed.gov/dpcletters/ANN1614.html
2.  INTERPRETATION OF TIMING FOR PROPOSED REVISIONS TO 2017 DISCLOSURE TEMPLATE
These same officials also shared that the changes being proposed as part of the September 13, 2016 Federal Register Notice (and the potential for any additional revisions based upon the comment period associate with this Notice which doesn't close till November 14, 2016) are, in the view and interpretation of the Department, not subject to the Master Calendar and thus all of the revisions – including those based upon the comments – will be implemented as part of the 2017 Disclosure template requirements effective January 31, 2017. https://ifap.ed.gov/fregisters/attachments/FR091316.pdf