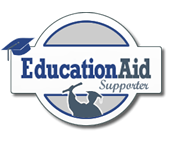 Only 5 days left to enter Education Aid's bracket challenge and help prevent disadvantaged students from dropping out of school in the process. Donate today and help change someone's life!
Here's how it works:
1. Make a Suggested Donation of $25 Here: https://npo.justgive.org/educationaid
2. An Email Will be sent after Selection Sunday with a Link to the Bracket.
3. Scoring: We'll follow ESPN.com's scoring system.
4. Winner Gets $500 Cash. Cash Prize will Increase by $500 for Every 100 Participants.
5. Pass this along to friends and co-workers so they can take part in the challenge!
Education Aid is proud to have awarded over $100,000 in scholarships since 2011!
Education Aid would like to thank all of you who have made furthering our mission possible. Your support makes education accessible to many students who would otherwise not be able to afford school. For these disadvantaged students, earning a degree begins with the contributions made today.
Check out our progress and see who our past fundraisers have supported at www.educationaid.org/2015fundraiser
With thanks,
Karyn Balfour
Founder and CEO
Education Aid Mission
It is the mission of Education Aid to change the lives of students around the country by providing them with the financial support that they need to complete their education. This is accomplished through the Support a Student Scholarship Program. Participants of this Program have payments made on their behalf for non-tuition related expenses that are not covered by their current financial aid packages.
Everyday costs of living such as rent, utilities, and childcare are a huge barrier to graduation when students cannot afford to pay for them. Many economically disadvantaged students, especially non-traditional students, do not receive enough financial aid to pay for such expenses and ultimately end up dropping out of school. This Program was created to identify these students and to provide them with the financial support necessary to enable them to complete their degrees. For these disadvantaged students, getting the job training they need, or earning a college degree is only made possible by the type of financial support Education Aid provides.